San Mateo, CA is a renowned technology-as-well-as-financial hub of California. However, from tourism perspective too, this place is priceless. Want to know what are the top tourist spots in San Mateo? You can read about them here-
Downtown San Mateo
The downtown San Mateo is a thriving area to be. You will discover plenty of mom-and-pop stores, high-end designer boutiques, and pizzerias selling wood-fired pizza here. In the event that you are a tourist with no specific destination in mind, then hanging in the downtown would give you the maximum delight. Downtown San Mateo has some famous watering holes too.
Sawyer Camp Trail
Unleash the hiker inside you with Sawyer Camp Trail. The six-mile-long stretch connects two dots- Crystal Springs Reservoir and St Andreas Lake. Morning is the best time, as you shall get to see nature with its untainted form. Likewise, you may spot plenty of small animals like squirrels and rabbits during the hike. Sawyer Camp Trail also fits the bill for cycling or biking.
Japanese Garden
The Japanese Garden has always been one of the underrated venues in San Mateo County. It's only recently that it is drawing in swarms of tourists. Do you have an eye for Japanese pagodas and lanterns? Then head towards Japanese Garden. You will find a beautiful pagoda, a tree decorated with lanterns and much more there. The best parts of Japanese Garden must be- various ponds and the gazebo standing tall amidst them. The serenity of the park shall reinvigorate you. In any case, do remember that it's prohibited to bring any foods and drinks inside. Lastly, it's the bonsai, the bridges, and the line of trees – that will surely blow your mind here.
Seal Point Park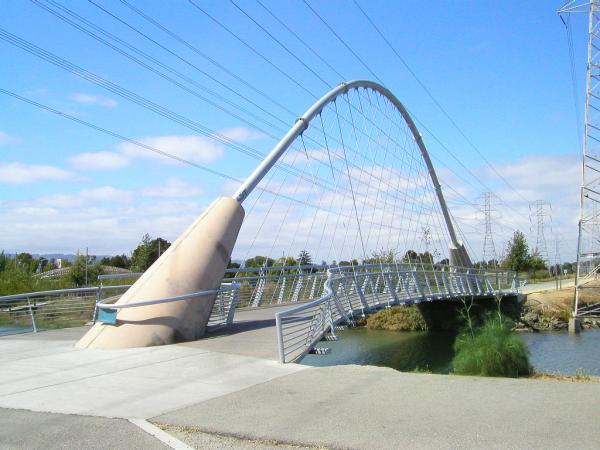 Every mountainous terrain has its own special point to capture the best view of sunrise. For San Mateo, it is the Seal Point Park. The uncrowded beach will give you ample place to roam free and have the time of your life. You may take a stroll, jog or cycle around beach line without slamming with another human being. The beach offers parasailing facility for the adventurers.
Hillsdale Shopping Center
For shopaholics, Hillsdale Shopping Center is a must-visit place in San Mateo. Even if you don't love shopping, going from store to store, browsing latest designs would be so much fun. Some of the biggest names in US fashion, such as- Nordstrom, H&M, Trader Joey's are there in Hillsdale Shopping Center. For the foodies- cheesecake factory, California Pizza kitchen are biggest attractions in this shopping mall.
On the off chance that you drool over baked goodies, Hillsdale may turn to be the paradise. If you are bringing your restless kid here, then the massive Lego store is enough to keep him/her engaged for a long period of time.
Pulgas Water Temple
To honor the completion of Hetch Hetchy reservoir and sluice project, Pulgas Water Temple was erected in 1934. Do you have keen eyes in studying architectural wonders? Then this Greco-Roman style temple would be of much interest to you. The thick line of cypress trees, mountains in the backdrop, the crystal clear pond adjacent to the temple make the area a picturesque setting.
No wonder that this place is a popular marriage spot for locals. Pulgas Water Temple is open 5 days a week and there is no entry fee. Lying close to highway I-280, it's a good drive if you are coming from San Jose.
Curi Odyssey
Formerly named as Coyote Point Recreation Center, CuriOdyssey is a museum-cum-zoo, which focuses on blending science and entertainment. This is a must visit the center with children. Does your kid love baby otters? Then go to CuriOdyssey before 12 A.M. and watch how the otters get to be fed by the zoo staff.
The museum is in indoor and it has plenty of interactive facilities for the little brats, though age doesn't matter. Even if you are a grown-up, you may hop on the kiddie bandwagon and take an active part in the fun science-based games.
San Mateo County Fair
If you are around San Mateo in the month of June, then do visit the San Mateo County Fair. This festival is one of the biggest crowd-pulling events in CA. From participating in an adrenaline rushing rock concert to witnessing the unique pig race- you will be spoilt for choices here. Do you love pigging out on delicious cuisines? Then you shall be happy to know that the fairground hosts food trucks that sell everything under the sun- from sushi to burgers.
For a head-spinning ride, go to Gravitron and have a blast. Also, the livestock, as well as butterfly displays, would be educative moments for kids.
Laurelwood Park
In the event you are dying to have some physically challenging trails around CA, then arrive straight to Laurelwood Park. The steep path that leads to Sugarloaf Mountain shall definitely mesmerize you- by its sheer beauty and sweat-dripping hike. For children, the park has adjacent playground and benches. But do keep note that the trails of Laurelwood Park are confusing. Without any proper marking, you may get lost. Take a map along with you and give it a shot.
Junipero Serra Statue
Priest Junipero Serra is considered to be the founding father of California. If you want to pay a visit to his monument before making a voyage through the San Mateo city, then take a pause here. The massive Junipero Serra statue is the fine example of modern art. Situated beside 280 freeway, it is accessible by the cars easily. The Bay Area has only a few monuments to celebrate in the vicinity, so that makes the monument of father Junipero Serra all the more fascinating.
For the locals, this is a great point to take photogenic selfies. The area encompassing the statue is a scenic place to take a walk or sit back and relax.
San Mateo, CA promises you to show a number unpretentious tourist spots. If you don't like big-city hullabaloo or not a fan of gimmicks, then this could be the best place to explore in California.